Website basics
How much does a web domain cost? [2023 update]
The cost of a website domain varies depending on several factors, including how popular it is. Read more about average web domain pricing, registrars, and next steps.
Launch a new website on a custom domain
9 December, 2022
·
3 min read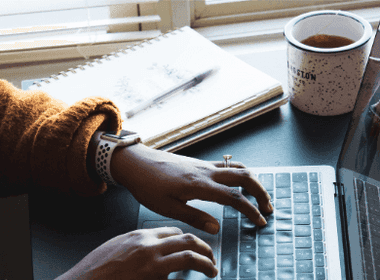 A web domain is the address where your website can be found online. For example, B12's domain name is www.b12.io and Amazon's domain name is www.amazon.com. 
When you sign up for a website builder, you can usually get a free domain name. However, it's usually hosted on a subdomain instead of your own website. Typically, it's recommended that you use a domain registrar to purchase a domain name for your website that ends in .com or other popular extensions. 
In this article, we'll discuss how much a web domain costs, rates for popular domain registrars, the factors that go into a domain name's cost, and how to simplify the domain process.
How much does a domain name cost?
Typically, a domain name costs between $15-50 annually. However, the prices vary depending on who you use as a domain registrar, which extension you use (such as .com or .net), whether it's a premium domain name or not, and more.
The most expensive domain name ever purchased was voice.com. It sold in 2019 for $30 million. Not too shabby for pure domain name sale. Fortunately, most domain names are much more affordable than that. Yet, premium domain names can cost quite a bit.
There are two types of domains: top-level domains (TLDs), which typically end in .com, .net., .org, .io, and country code top-level domains (ccTLDs), which usually end in the extension used by a specific country, such as .ca, .fr, .pt and so on. The most popular domain extension is .com. However, it can be hard to find an available .com domain name, which is why people turn to other domain extensions. It's important to note that the extension you use for your domain names can alter the domain name cost.
Domain registrar rates
Domain registrars set their own domain name cost. For example, Namecheap charges $9.38 for a .com domain and $14.75 for a .net domain. Google charges $17 for a .com domain and $17 for a .net domain. Domain.com charges $9.99 for a .com domain and $12.99 for a .net domain. Doing research when choosing a domain name registrar is crucial as it can help you reduce the costs associated with purchasing a domain name.
Typically, domain registrars have a promotional price for the first year you own a domain name. The cost usually increases upon renewal. Some domain registration companies may offer discounts based on term length. For example, you may get a great deal on your first year upon locking into a three-year contract for your domain name.
Many domain registrars also offer hosting services alongside your top-level domain. Others allow you to build websites, such as professional websites, online stores, or blogs, as an all-in-one service. Rates will vary depending on whether you purchase domains from hosting companies or all-in-one website builders.
Factors for domain name costs
1. Domain extensions
Domain registration costs vary depending on what the domain extensions are. Typically, non-traditional domain extensions, such as .app, .biz, or .store cost more than standard .com domains. However, available .com domains can be hard to find.
2. Renewal fees
A domain registrar typically offers a discount for the first year of your domain registration. However, when it comes time to renew, prices increase. Your cheap domain will likely be a bit more expensive in year two. Alternatively, the second year of your subscription will likely be much cheaper if you buy a premium name. So, don't risk letting a domain expire if the domain name has value.
3. Privacy costs
Anyone can look up the address and personal details of a person who purchases a domain via the whois directory. If you're using your home address rather than your business address, this puts your private information at risk. Fortunately, you can pay to protect the privacy of your address, contact information, and name when purchasing a domain name for an additional fee. This purchase is typically recommended unless you're interested in selling a domain, using a business address, or using a third-party mailing service.
4. Transferring domains
If you buy and sell domain names privately, there may be costs associated with transferring domains from one platform to another or from one individual to another. These costs will depend on the platform, the contract with your buyer or seller, and so on. For example, the popular domain registrar Namecheap doesn't charge additional fees for transferring domains to another person.
5. Unique vs. premium domain names
Coming up with an original domain name means there's less competition. As a result, it'll typically be available for purchase, allowing you to pay the standard rate of a domain name from a specific domain registrar. However, premium domains can cost much more. A premium domain is a name that is searched for often, has fewer characters, or is recognizable. The cost of a premium domain can be anywhere from a few hundred dollars up to millions, provided that the domain isn't tied to a website. When a domain has been built up with backlinks, traffic from search engines, social media, and other value-added benefits, the cost can be worth billions of dollars as it's considered an asset.
6. Term length
Domain registrars can alter the price of a domain name based on the term length. Some sites offer discounts for registering a domain name for multiple years. Not only will this allow you to keep a domain long-term, but it can also give you added savings. An expired domain can be accidentally lost to another person if auto-renew isn't set up. If you plan to keep your domain name for years, it may be worth signing up for a multi-year term to capitalize on discounts as the domain owner.
Simplify the domain process with B12
Buying a domain, pointing a domain to your website, and setting up your website can be complicated. Fortunately, every B12 subscription comes with one custom domain name depending on the availability and cost of the new domain name. Unlike most website builders, B12 helps professional services build a beautiful website in 30 days or less with its in-house website developers, copywriters, and SEO experts.
When you build your website with B12, you can trust a team of experts to ensure you have a website domain for your business, with hosting and professional website design. You won't need to determine which web hosting companies are best, which top-level domain to choose, or compare different domain registrars. B12 is a reliable domain name broker, with no hidden fees, and plenty of cheap domain names.
On top of that, B12 can also help you build your site in several ways. With a team of search engine optimization experts, you can increase the value of your domain name with optimized blog posts and SEO content. With search engine optimization, your inexpensive domain name can be worth a lot over time as you grow your website traffic and domain name value. 
B12 offers way more than just a website and custom domain – you get everything you need to run and grow your business online, including invoicing and online payments, client intake forms, online contracts, and more. It's a single platform that enables you to attract and retain clients while having a beautiful website and a credible online presence. To get set up with a new website and domain name, sign up for B12 today
Want a new website on a custom domain?
Let B12 help secure your new web domain and launch your professional site.
Looking for a free website solution? Find out if Wix is a viable option for your business needs.
Read now
Learn more about ADA best practices to make your website readable, navigable, and inclusive for everyone.
Read now
Discover the benefits of being a freelancer bookkeeper and the steps to starting your own freelance bookkeeping business.
Read now