Commercial real estate firm
20 of the best real estate websites to inspire you in 2023
If you're involved with the real estate market, whether as a seller, buyer, agent, or principle, you need accurate, useful information. In this post, we'll unpack 20 of the best real estate websites in 2023.
See a free draft of your new real estate website
13 September, 2022
·
10 min read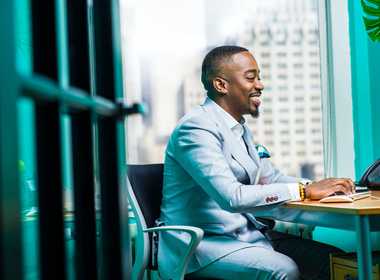 As a real estate agent, realtor, or letting agent, you need to stay on top of industry events. Real estate is a game of information, and those with the most information – win.
Okay, sure, we might sound a bit Gordon Gecko-ish with that statement, but the reality is real estate is a competitive market.
If you're involved with the real estate market, whether as a seller, buyer, agent, or principle, you need accurate, useful information. In this post, we'll unpack 20 of the best real estate websites in 2023.
#1 Airbnb
Founded by Brian Chesky in 2008, Airbnb is now the largest online resource for rentals in the world. The company operates in markets around the world, with headquarters in San Francisco.
The site offers realtors, letting agents, and renters an invaluable resource on market pricing. The site offers competitive rates, allowing you to compare rental prices across different markets.
The site also offers an invaluable source of leads for realtors. Many property owners using the site for long-term leases would probably be willing to let an agent offer them a mandate of you can prove you can get them a tenant.
#2 Zillow
This website receives more than 36-million unique monthly visitors. It's the most popular real estate website, with the largest collection of real estate listings online.
Zillow offers a full-service website for all real estate activities, whether it's buying, selling, or renting. You also have plenty of listings for remodeling services and financing platforms.
Zillow provides users with an immersive experience when browsing its site. It's an image-heavy site, with most listings containing several high-resolution photos of properties.
Zillow also conducts price evaluations on your home using its 'Zestimate' model. Zestimate uses data from listings and other external sources to reach accurate appraisal values.
The machine-learning AI system in "Zestimate" accounts for factors that affect the listing price, such as location, home facts, and overall market condition.
#3 Xome
Most websites act as a portfolio for listings. If you like a property and want to view it, you'll need to start the process outside of the platform and contact the owner or agent regarding your inquiry.
With Xome, you get a "one-stop-shop" for real estate transactions. The site offers listings, but it also comes with a portal for completing real estate transactions.
This unique feature of Xome means you get access to the Xome Concierge service and Xome agents, helping you save money on your transactions by working on the platform. The result is top-shelf real estate advice and lower commissions.
The Purchase Pro program includes pre-qualification, property tours, and a transparent mortgage sourcing process. You complete all the transaction documents through e-signature services on the site, giving you a complete online solution for your buying or selling needs.
#4 HomeFinder
This site features millions of listings across all 50-states. HomeFinder offers users a premier search portal, featuring a legacy that stretches back to its founding in 1999.
It also received the Top 5 site award for streamlined home searches for homebuyers, as featured in Home Wire.
Users search for sales and rentals, and it's a great way for agents to find leads in their area and for buyers to source good deals. HomeFinder also offers a mortgage calculator tool to help you calculate rates in your state.
#5 RedFin
The Redfin brokerage is a finance site, and they also offer property listings. They have a team of agents connecting with clients, offering 3D property tours of listings, making it easy for clients to decide on a real viewing.
That's a convenient service in today's pandemic era. Everything you can do to limit contact with people in today's modern age is the better choice.
RedFin claims its clients save an average of $8,400 when using its agents for your home buying needs. RedFin offers a full-service experience to its clients and same-day bookings for viewings.
#6 Realtor
Real estate websites are a fantastic resource for agencies, buyers, and sellers. However, they don't provide the same full-service offering as a realtor.
Realtor recognized this issue, creating a site specializing in helping buyers and sellers get what they want out of a listing without stressing on the realty paperwork, legal jargon, and technical issues.
Realtor works with the National Association of Realtors (NAR), giving clients confidence in a competent firm. The site puts you in contact with realtors straight off the website, with more than a million registered agents.
#7 Homes.com
Homes.com offers more than 120,000 real estate opportunities taken from real estate websites and MLS listings. An exciting feature of the site is its home values history function, allowing you to check on the price growth, comparing it to other properties in the area.
This useful tool provides you with a great method of finding undervalued properties that qualify as great deals for homeowners and investors. The site also has information on local amenities and services, giving you more data for your due diligence.
The site also offers technical information on homeowners insurance, property taxes, and mortgage payments on the prospective deal you're interested in buying.
#8 MLS.com
The local Multiple Listing Services (MLS) gives you accurate data regarding the real estate market across every state in the country. The MLS is the database brokers, and professional estate agents use when assessing property value.
While the listing service is not available to the public, plenty of sites offer a watered-down version of the MLS. The site is a great resource for real estate news, Q&As, and educational resources, such as mortgage calculators.
#9 Auction.com
Those investors or flippers looking to get a great deal on their next project can head over to Auction.com. This site features listings of bank-owned properties or foreclosure deals, offering excellent value to buyers.
The site hosts online auctions, and if you win a bid, Auction.com has a team ready to assist you in the closing and transfer process.
#10 ZipRealty
ZipRealty is a website connecting buyers, sellers, and investors with local agents. It's a similar structure and model to realtor.com, connecting you with external agents with no affiliation with the platform.
The site offers user reviews on agents, with verified sources, giving you insight into your agent or agency's efficacy. ZipRealty stands out with its interconnected and streamlined real estate services. The company has a functional website and a fantastic app with user-friendly navigation on mobile devices.
#11 Trulia
Trulia is a competitor to Zillow, and it has a comparable offering with a huge user-base. Trulia has over a million listings on its site, with options for buying, selling, or renting. Trulia makes it easy to search and find the right properties to suit your homeownership needs and budget.
You get outstanding custom keyword searches with over 35 filters, giving you all the information you need in your due diligence process.
Trulia comes packed with insights into relevant properties in your price range and area. There's drone footage on properties and resident reviews to add to your research. The site also has an excellent educational resource, with buyer and seller guides available for a free download.
#12 RealtyTrac
This real estate website specializes in listing for foreclosed and distressed properties. It's a great choice for investors looking for rental units or properties to flip. This site has the largest collection of foreclosures and distressed listings, with the site running online auctions.
The site also features a professional team to help you through the auction process. The team gets you through all the paperwork without ever needing to leave your laptop. The site also has a variety of top resources that help you navigate the complexities of an auction and how to make bids.
#13 ReMax
If you're looking for a collection of the best luxury properties on one site, we recommend going with ReMax. This agency is an international firm offering real estate listings in countries across the world.
However, the biggest market focus is on the United States, with select listings in all states.
The firm focuses on homes that are twice the average value of other properties in the area, and they work with residential and commercial properties. If you need help with dispositions and acquisitions, the site has a portal for advice.
ReMax also offers its clients a free app, allowing you to keep tabs on the latest listings as they hit the market.
#14 ApartmentGuide
If you're looking for rentals in your area, ApartmentGuide is the best option for renters and landlords. The site focuses on apartment listings only, working in cities across America. ApartmentGuide is a sister site of RentPath, a digital marketing agency for the residential rental market.
The site features content-rich listings, informational resources, and an excellent on-site search function. The site also offers an app for Android and iOS users, providing you access to the website on the move.
#15 Roofstock
Roofstock is a great choice for investors. The site runs an investment-pool scheme where it allows you to invest in real estate deals across the United States fractionally. The site also has opportunities in countries like Singapore, where real estate prices are booming.
With Roofstock, you don't have to do any due diligence on your deals. The site utilizes a team of real estate investment professionals to analyze the deal specifics for you. All aspiring investors need to do is browse through the deals on the mobile app and choose the investment that meets their needs.
#16 Apartments.com
Apartments.com offers a comprehensive website packed with rental listings. Over a million properties are available for rent on the site, with condos, apartments, houses, and townhouses to suit your requirements.
The site uses a professional research team to visit and evaluate all the properties before creating a listing. The unique "Polygon" tool on the site provides users with accurate search and search areas on a map and find properties within it.
There's also a commute planner, helping users find a new home as close to their place of work as possible.
#17 ForRent.com
This website also caters to exclusive listings for apartments across the country. Experts affiliated with the site evaluate and assess all the properties before the listing goes live on the site.
The site also acts as an informational resource, giving you plenty of useful articles written by expert investors and real estate professionals. The site also has helpful tools like mortgage calculators for assessing the deal.
#18 HotPads
This website focuses on apartment listing in urban areas. They have a range of apartments available in top locations like LA, NYC, and Florida.
Hotpads provides its users with tools to help them calculate commuting times around the local area. The site verifies all properties before listing them on the site. With HotPads, you get user-friendly navigation and plenty of listings in a variety of categories.
#19 Rent.com
Don't confuse this site with ForRent.com. Rent.com is a top site featuring rental listings from across the United States. The site offers verified listings, including options for houses, apartments, and condos for rent.
Each listing comes with impressive high-quality photos and 3D tours of floorplans, giving you an accurate view of the property before arranging a viewing.
You'll find verified reviews from past tenants for additional credibility. The site has specific sections for students, budget-conscious renters, seniors, military personal, and luxury rentals in high-demand locations across the United States.
#20 Open Listing
Open listing is our choice for the real estate website with the best-personalized features. This site comes with a modern and fresh design to the platform, with a layout that looks similar to your social media accounts, using a scrolling feed.
You create an account and complete the registration process leaving your listing criteria. The AI system on the site curates listings based on your requirements, sending them directly to your feed.
All the listings come directly from the MLS, with fast update times that let you get the first option on the best deals. The site verifies all properties before adding a listing, with a vetted showing agent for your open house.
---
Conclusion
Do you need a partner in building the best real estate website for your business? B12 specializes in helping professional services companies create beautiful sites that enable them to operate effectively online. Built-in tools like SEO, email marketing, and online scheduling make it easier to reach your audience.
Sign up to see a draft of your new website or learn more about how B12 uses artificial intelligence and experts to help businesses grow online.
Have experts in real estate web design build yours
See a free draft of your new website, then launch in 30 days or less.
Looking for a free website solution? Find out if Wix is a viable option for your business needs.
Read now
Learn more about ADA best practices to make your website readable, navigable, and inclusive for everyone.
Read now
Discover the benefits of being a freelancer bookkeeper and the steps to starting your own freelance bookkeeping business.
Read now