Website basics
10 steps to building a website from scratch
A step-by-step guide to website-building so you can launch your brand's online presence in no time.
8 min read
If your brand or business doesn't have a website, it does not exist. No, this is not some dire warning, but simply the reality in today's digital age. After all, how else is a potential client supposed to find you if you don't have a dedicated business website?
For many startups, small businesses, professional practices, building a website from scratch can be quite a daunting process. Even more so if you're also grinding to get your business off the ground at the same time. Plus, you may have spotted some really stunning web designs and functionalities and have probably convinced yourself that you'll never be able to do something similar.
Here's some good news for you though —building a website, even from scratch, is not as complex as you might think. This is 2021, after all. Anyone with access to the internet can make a website even if they don't know a damn thing about website development or coding.
In fact, if you're ready right now, this step-by-step guide will walk you through the website-building process so you can launch your brand's online presence in no time. Let's get to it.
What do you need to build a website from scratch?
We already stated that you don't need in-depth technical know-how to build a website. Still, some soft skills will definitely come in handy. Chief among them is having an eye for design. Even if you're not a styling expert, you should at least have an understanding of the basic elements of design and how to bring them together.
You should also have a plethora of creative ideas that you are looking to implement. For example, you might want your website to perform a particular functionality. You need to be able to capture that idea and find the best possible way to set it up on the site.
Some knowledge of SEO (Search Engine Optimization) is important too. This will allow you to craft and publish the right type of content. Without content, a website is just an empty shell taking up space on the web.
Lastly, you need the right tools. Here's the thing — tools are why it's so easy to build websites today. You have everything from easy website builders with drag and drop functionality to software that lets you customize images and infographics. There are even tools (AKA plugins) to help you optimize back-end operations.
Take advantage of these various web design and development tools to make the building process go much smoother.
Basic components of a website
Whether you want to create a personal website or a business website, the building blocks are pretty much the same
Domain name
Web host service
Website platform
Let's look at each one in more detail so you know what to expect.
Domain name
Websites are basically IP addresses on the web. The domain name is the unique name used to identify your new website from all other IP addresses. As such, no two websites can ever have the same domain name.
If you're building a business website, you're better off registering a custom domain name. You can claim your custom domain on domain registrars like GoDaddy, NameCheap, NameSilo, Domain.com, and so on.
In any case, you'll want to put some thought into your domain name. Whatever name you choose will define your website's address on the web. It will also set the tone for how people encounter your brand. Domain names are useful in SEO and can become the backbone of your keyword optimization strategy. But most of all, domain names are for life or at least, as long as you're willing to own that website.
Choosing a great domain name
A user-friendly domain name is a great domain name. So regardless of the name you choose, it can perform perfectly if it is user-friendly. Of course, you want it to be unique, catchy, easy to spell, and possibly, SEO-friendly.
Choose the domain extension carefully too. For businesses, the .com, .net, .biz extensions are among the most popular. Organizations and nonprofits typically the .org domain extension, while tech startups tend to favor .io and .ai extensions.
Check out: A guide on how to register a domain for beginners
Web host
Your web host is simply where your website is housed. That's right. Websites are not just floating around on the internet. They are domiciled on web servers so users all over the world can access their content. There's no shortage of web hosting providers out there today and it's really up to you to choose the right hosting plan for your small business.
There are different kinds of web hosting packages available. The most common include shared hosting, VPS (virtual private server) hosting, and dedicated hosting. Generally speaking, you don't really need an advanced hosting plan when you're just starting out. These advanced plans are designed to handle heavy traffic, which a new website may not be able to acquire just yet.
Choose your hosting provider carefully
Each hosting company offers distinct hosting plans, but beyond choosing which packages best suit your plans and budget, you should also consider the reliability of service. There's nothing worse than encountering server downtimes with no dedicated support service on the other end of the line.
Some of the most popular web hosting providers include:
Bluehost
GoDaddy
NameCheap
HostGator
Hostinger
Dreamhost
It's usually a good idea to get your domain name from the same provider as your web hosting. Many hosting plans typically come with free domain registrations. They may also come with user-friendly control panels (cPanel) to allow you easy access and management of your hosting account.
Related: Your quick guide to free website hosting
Website platform
The website platform is where you'll build the website. The usual options are either a content management system (CMS) or website builder. Each has its distinct advantages over the other, so at the end of the day, it really comes down to what type of website you want to build and how much time you have for the website building process.
For instance, if you wanted to build an online store and are limited on time, you're probably better off using eCommerce website builders like Shopify, Weebly, Wix, and Squarespace. They are among the best website builders available. More importantly, they all offer hundreds of free themes and templates, along with a simple drag and drop functionality. All you need to do is customize one of these templates and you've got a fully functioning website on your hands.
Suppose you want a website with more back-end customization options and the ability to seamlessly integrate third-party applications, or you plan to post lots of content on your site. In that case, a CMS may be the better option. The most popular CMS today is WordPress (both wordpress.com and wordpress.org). Many hosting providers allow you to install WordPress with just one click. Other CMS options include Joomla and Drupal.
These platforms also have tons of website templates that you can easily customize to suit your website needs. They are generally more robust than website builders — plugins, extensions, web development tools — though some understanding of back-end operations may be necessary.
Building your website in 10 simple steps
The best way to go about building your new website from scratch is to break down the project into smaller pieces. Make it a step-by-step process and set a couple of clear milestones so you can track your progress with ease and move smoothly from one stage to the next without feeling confused or overwhelmed.
With that out of the way, let's launch into the website building process.
Step #1: Initial prep work
In addition to the components described above, there are two main things that you need to consider in order to lay a solid foundation for your website.
The first is clearly defining the goal of your website. You should be able to explicitly answer the question, "why am I building a website?"
The second is understanding the cost of building your new website. Yes, it's very much possible to get a free website, but it will usually come with a number of limitations that make it a poor choice for a business website.
Let's look at each consideration in detail as they are crucial to how your target audience will receive your new website.
Determining the primary purpose of your website
When you know what you're building the website for, the building process becomes streamlined. More importantly, you know what type of website to build. Here are a few types of websites worth noting:
An online store or eCommerce website is the perfect platform for running an online business. People buy products directly from you and you send them their goods directly to their respective doorsteps. There are many examples of eCommerce websites, including Amazon, Walmart, Best Buy, and so on.
With an online store, the web design is typically different and set up to give the online user a seamless shopping experience. Suppose you don't want to use an eCommerce site builder like Shopify or BigCommerce. In that case, you could always use the Woocommerce plugin to transform your WordPress website into a fully functioning online store.
This is simply an informational site with articles or posts being published regularly. The tone of the content is typically conversational and made to address readers directly. Business owners and freelancers can significantly benefit from blogging as it allows them to communicate directly with their audience, educate them, and thereafter establish their credibility in their industries.
The most popular platform for blogging is wordpress.org, though you can definitely find dozens of other options, including Blogger, Ghost, Medium, and so on. One of the best ways bloggers make their sites stand out is through visual content and an interactive user interface. You can tackle any topic within your niche, but make sure it is 100% accurate, timely, and most of all, engaging.
A forum website is basically a discussion platform. Quora and Reddit are among the most popular forums today. If you're looking to build a forum site, your primary aim is to develop a community where people freely share their thoughts on various topics.
You'll also need to set up certain security measures to protect the identity of the forum commenters. Usually, forum users have to create an account, which means their information needs to be stored in a secure place. This will impact the kind of web hosting you'll use.
We know all about popular social media platforms like Facebook and Twitter. A niche social network is somewhat similar except it caters to a defined audience within the general population. Here, users can form connections with one another based on shared interests. For example, you could create a niche social network for cat owners or for classmates from a particular graduating year.
_Membership/subscription site _
A membership site is one where you have to be a member in order to access the website's content. Membership usually comes with a recurring cost known as a subscription. The idea behind a membership site is to generate revenue directly from your users. In return, you must deliver quality, exclusive content that will be beneficial to the users.
There's no better way to launch your business's online presence than with a dedicated business website. It contains all the necessary info about your business — brand identity, what you're selling, how you're selling them, who you're selling to, and so on.
Your business website must be able to convince people that your brand is legit and that they should have full confidence when buying from you. This is no small feat, but the gains are far too significant to ignore once done correctly.
Understanding the cost(s) of building a new website
The only time a free website makes sense is if you're building your own website for personal use. Anything else, and you can be sure of parting with some cash before, during, and possibly even after the build process.
The actual costs will differ depending on what features and functionalities you want for your site. Of course, some costs may be unavoidable, such as custom domain registrations, web hosting plans, plugins, and the site builder used.
In any case, building a website doesn't have to be an expensive affair. Then again, you don't want to settle for the cheapest stuff out there either. Have a budget and plan accordingly. For example, building the website yourself will cost less than hiring a web developer, even a freelancer.
The truth is if you've never built a website before, you will need the services of a web designer or web developer at some point, especially when it comes to the back-end aspect of the site.
Read also: Website cost calculator: How much does a professional website cost?
Step #2: Penning your website layout ideas
Yes, you need to get a pen (or pencil) and a sheet of paper for this step. Luckily, it's quite easy to do. You've come across dozens of websites, so it comes down to what layouts and design features caught your fancy. There's nothing wrong with copying a piece of web design. It's all about how well you can customize it to make the website stand out.
There are four primary sections in every website — header, sidebar, body, and footer. Jot these down first and start sketching the layout. If you have some graphic design experience, you could use a tool like Figma or even Photoshop to sketch and throw in more details. If not, a pen and paper work just fine.
The idea is to have something you can reference when building the site.
Step #3: Define the sitemap
The sitemap is exactly what it sounds like — a map of your site's structure. It is useful for optimizing user experience, as well as for search engine crawlers. The sitemap is the architecture of your website. How many pages will it have? How will you present the navigation? What web pages will be nestled under the main pages? How will you structure the homepage? The considerations are as plentiful as they are necessary.
Again, you could take inspiration from other websites that may have caught your eye. Use your layout in step #2 to guide your sitemap. They should complement one another. If there's a clash, you'll end up wasting time trying to fix one or the other once the actual build is underway.
The key is to make your site as organized as possible. People shouldn't have to jump through hoops just to find what they're looking for on your website.
Best tips for designing your sitemap
Boldly display your logo and other branding designs at the top of the page.
Don't add too many main navigation items. They can cause the site to look disorganized when viewed on mobile devices.
Spend time on developing an inviting homepage. This is where most of your visitors will land on and the design must make a compelling first impression.
Even if it's a one-page website, be sure to Include necessary pages, such as About Us, testimonials/reviews, contact form, FAQ page, etc.
Step #4: Choose website theme/template
This is assuming you've already decided on what website platform you wish to build on. The process is basically the same, either way. Choose from numerous templates and themes for the one that best captures your vision for the website. These templates are essentially the skeletal framework of your website.
Let's assume you want to use WordPress for your site build. There are hundreds of WordPress themes, all offering robust customization features. You'd be surprised how many WordPress websites out there are using the exact same theme and yet look nothing alike.
What to look for in a website theme
Simple yet elegant design. This is important for optimizing user experience and improvising website loading speed.
Mobile responsive setup (this is non-negotiable)
Available plugins, extensions, apps
Cross-browser compatibility. The website should look fabulous on any browser.
Easy web page builders
Readily available support options
Step #5: Implement sitemap and layout ideas
You have your theme set up. The next step is to customize it based on your layout and sitemap. Don't underestimate this process as this is where the site-building really takes place.
If you're building a WordPress site, the process is relatively straightforward, as many of these templates offer drag-and-drop functionality. Start with customizing the homepage. You want to implement a structure that users can easily follow across the page.
Craft the perfect user journey across your site — relevant information highlighted, one section seamlessly leading to the next, clear calls to action (CTA), easy to find contact information, and other best practices.
To create a new web page in WordPress, simply click on 'add new' on the sidebar of your WordPress dashboard. It will open up a new page that you can then customize directly or through your theme's page-building tools.
Our best tips for this step
Pay attention to detail — This is where your eye for design is particularly useful. Choose everything from typography to color schemes carefully. You don't want something too overpowering, but at the same time, you don't want something drab and soulless.
Maintain design consistency across all web pages — There might be a few changes here and there, but the web design should generally be consistent sitewide. For example, make sure you're using the same font styling across every web page.
Optimize as needed to improve user experience — There are no penalties for taking down your design and rebuilding from scratch. Yes, it's time-consuming, but what worthwhile investment isn't? Let optimizing user experience be your primary goal when designing your website.
Step #6: Coding the back-end
Depending on the various functionalities you want from your site, some back-end coding may be required to execute your vision. It would be a good idea to ask a web development professional to step in at this point and simply do all the necessary coding for you.
If you'd rather go at it on your own, you should at least have some knowledge of CSS and HTML styling. In reality, that's just the bare minimum. Coding requires a certain level of technical know-how in Javascript, PHP, Python, Ruby, Java, and other programming languages.
To make things somewhat easier, many of these website functionalities can be activated simply by installing certain plugins. For example, there are dozens of WordPress plugins for contact forms, so you don't have to code it. You can modify these plugins as needed to suit the style and tone of your site.
Step #7: Add content and do preliminary on-page SEO
Whatever content you publish on your website should seek to inform and not show off your company. It's always about the user. Your content should address their pain points and deliver helpful information in every paragraph. Utilize visual content (imagery, graphics, and video), but don't overdo them as they can impact the website speed.
In terms of on-page SEO, you want to make sure your website is optimized in line with best practices. This means proper H-tags, meta description, alt tags for images, keyword optimizations, indexable pages, and Google Analytics tracking.
Web analytics tracking gives you an inside view of how your website is performing. The most popular tracking tool is Google Analytics. It's free and simple to use. Most importantly, it provides a solid foundation for your online marketing strategy.
Step #8: Pre-launch checks and testing
Check through your site and look for any areas that you can improve upon. Run it through a checklist of website best practices to ensure that every aspect has been covered. Test every page, check the website speed, check the website security, examine the overall brand identity.
You also want to recheck the content. Is it relevant for that page? Does it convey useful information? Are the links working properly? Are there clear CTAs? Are the web pages set to be indexable?
After all these checks, share the website draft with key stakeholders or a few trusted friends. It always helps to get an outside opinion on your website before taking it live. You will almost always gain considerable insight into how you can design it better.
Step #9: Website launch
Moment of truth. Now's the time to see the fruits of all your hard work on display. This is a momentous occasion, but you remain focused, now more than ever. The process of launching your website can be somewhat technical. It involves pointing your registered domain name to that website's name servers (a process known as DNS propagation).
This process usually takes around 24 - 48 hours to complete, sometimes longer. This propagation period is critical, so you'll need to monitor it and ensure all the files are being uploaded correctly.
Step #10: Post-launch testing and maintenance
Your website is now live and ready to establish your business's online presence. But the work is far from over. Run some quick tests — check the site on mobile, check it on different browsers, and measure the site speed. Everything should be firing at an optimal rate.
The next thing is to set up a maintenance plan. Many of the plugins and software used in your website will need updating from time to time. You'll also need to look at data from your web analytics tool and make any recommended changes to optimize your website's performance.
How long does the website-building process take?
This really depends on what route you're willing to take. Having known how meticulous the process needs to be, many business owners just opt for hiring a web design and development agency or professional to do it for them.
In this case, the duration of the process will ultimately depend on the processes of that person or company. Here at B12, we usually have our clients' websites ready to launch in as little as one to two weeks. This is because we leverage AI technology to handle certain aspects of the website build, allowing our expert web designers to customize your site according to your vision.
If you're doing it on your own, the process could last several weeks or even months. Not to alarm you or anything, but the time it would take to master some programming languages alone, plus the time needed to write the website content… those could easily accumulate into weeks.
Conclusion
Building a website from scratch doesn't necessarily mean that you have to do all the work by yourself. This is the digital age, and working smarter will get you farther.
If you want to avoid this long approach and get your website set up in the shortest time possible, B12 has got you covered. Simply sign up and we'll send you a quick draft of your new website within minutes.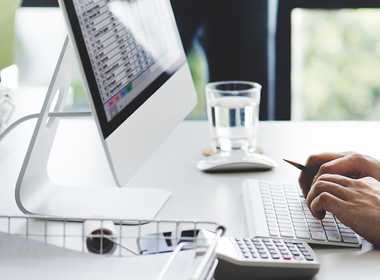 This blog post dives into the secrets of getting more five-star reviews on Google. Learn how to get more positive reviews and increase your online presence with these easy tips.
Read now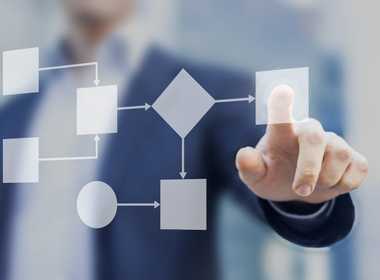 This blog post explores the potential benefits of trademarking a logo and explains how to go about the process. It provides a comprehensive overview of the cost, time, and resources associated with tr...
Read now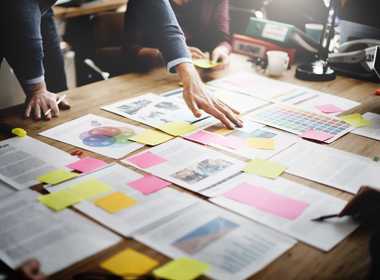 This blog post provides an in-depth guide to building a website for selling professional services. Learn how to create an effective website that will help you market and promote your services to poten...
Read now