Introducing AI Websites GPT: Use AI to build websites in seconds
The first AI website GPT on OpenAI only needs two details from you to build a personalized site
6 November, 2023
·
0 min read
Building a quality website continues getting easier and faster, thanks to updates like the ones announced at OpenAI's recent developer conference. One major announcement was OpenAI's new GPTs, which allow anyone to build custom AI assistants within the ChatGPT interface. 
Within hours of the launch, our team paired ChatGPT with B12's AI Website builder to unlock what might be the most efficient way to build a website you can start using for your business today. Try the AI Websites GPT to create your website with a blog, payment, and scheduling pages in 60 seconds. Note: OpenAI is granting access to new users, so check back if you don't yet have access.
How to use AI Websites on ChatGPT
Visit https://chat.openai.com/g/g-WTUuSzTOj-ai-websites
In the chat window, tell ChatGPT the name of your business and a quick description of what you do. This can be a short phrase, like "Marketing consultant in Grand Rapids." In seconds, get a link to B12, where you can see your free custom website and publish it.
Once you've chosen a B12 email login and password, you have the opportunity to customize your site further, playing around with fonts, layout, and color palette if you want. When you're ready, publish it for free and share your URL with others!
Your site automatically includes tools like online scheduling pages and smart forms. Later on, you can always upgrade your subscription to gain access to additional B12 services and tools, like working with design experts, invoicing and payments, eSignatures, AI content generation tools, and more.
Try AI Websites now to build your custom site with help from ChatGPT: https://chat.openai.com/g/g-WTUuSzTOj-ai-websites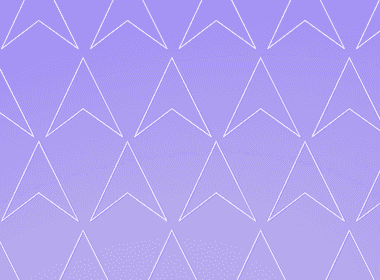 How we iterate on the new things we create
Read now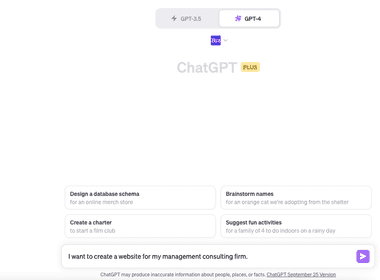 B12's suite of ChatGPT plugins continues to grow, offering you more ways to easily leverage generative AI.
Read now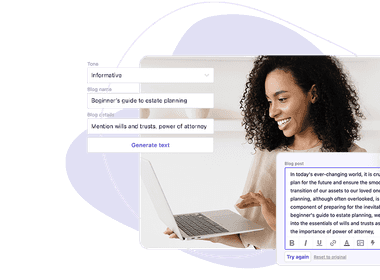 AI Assist is your copilot available throughout B12. Every detail, even SEO metadata, is drafted for you.
Read now