Website design
How to build a website for selling professional services
This blog post provides an in-depth guide to building a website for selling professional services. Learn how to create an effective website that will help you market and promote your services to potential clients.
1 March, 2023
·
4 min read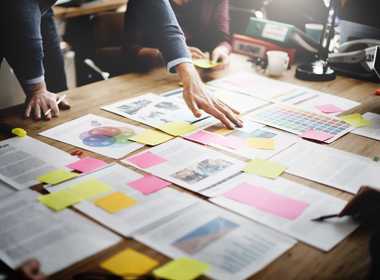 Do you need a website builder for your service-based firm to go online and succeed? With so many alternatives, it can take time to determine which one is ideal for selling professional services, like business coaching, tax preparation, legal services, and mortgage lending.
In addition to offering helpful advice for creating your website with a website builder, this article will give an overview of how to find the best website builders for service firms, including free and paid solutions.
What is a website builder for service businesses?
A website builder for service businesses allows you to create and manage an online presence yourself. It's a popular web-building method because business owners can easily create and edit a professional website without coding knowledge.
The best website builders for service businesses offer a range of features, including the ability to customize page layouts, add content, and incorporate marketing and SEO tools for visitor engagement. It's a good solution for service businesses that want to make their presence known and serve clients without hiring a web designer.
For design customization and flexibility, look for a website builder with features such as templates, color palettes, drag-and-drop editors, font pairings, and hosting. They also provide features such as analytics and SEO tools to help businesses track their website's progress. Most free website builders also offer customer support, very necessary for those starting out with their online presence.
For service businesses that need more advanced features, paid website builders may be the best option. These platforms offer more customization options, built-in functionality, automations, and more powerful marketing tools that allow your business to sell online. Paid website builders often include advanced SEO and analytics tools, enabling businesses to track their website performance and adjust accordingly. Additionally, paid website builders usually offer better customer support, often live chat or phone support.
Paid website builders also may come with conveniences like domain registration and hosting, which help you offer a secure, reliable, and professional online experience. These website builders are ideal for service businesses that want to look reputable online, support a steady stream of visitors, and convert the right ones to clients.
The best website builder for service businesses
If you're looking for a time-saving way to bring your business online without sacrificing quality, a website builder is probably your best bet. Many of the popular options allow you to avoid coding or nitty gritty web development details. This makes it a great choice for those new to web design and who don't have the budget to hire a professional. With the right website builder, service business owners can create a website that looks amazing and is easy to navigate.
Wix, Weebly, and GoDaddy are all popular, relatively well-reviewed platforms that have the basic features you'd expect and will allow you to launch a site in weeks rather than months. Most of these builders offer all the features necessary to create your own website, with various switch templates and customization options at the DIY level, making it easy to create a website that looks good and functions properly. However, these platforms usually have limited customization options, basic templates, weak SEO functionality, and limited on-platform support.
There are also many up-and-coming website builders, including Jimdo, Strikingly, and Zyro. Some of these options are more geared toward ecommerce than selling services, and some users complain about limited online tools and features for service clients online and underwhelming customer support.
If you're looking for a website builder built specifically for service businesses, consider B12. It's the perfect mix of DIY and expert-built. Use AI to see a draft of your site in 60 seconds, then work with on-platform copywriters, designers, and SEO specialists to personalize your online presence and appeal to your target audience. Launch it in 30 days or less with all of the tools you need to attract, win, and serve clients, like contracts, payments, scheduling, and intake.
For a full breakdown of popular website builders, check out our detailed reviews:
Reasons to choose paid website builders for service businesses
A website builder for service businesses can be a great way to create a professional and user-friendly website that allows you to showcase your services and handle transactions. When considering the best website builder for your service business, weighing the advantages of the paid vs. free options is important.
Paid website builders typically offer more features than free options. Professional themes and templates, custom domains, more storage, faster loading speeds, and more customization are all features that are usually included. These features are important, especially for small business owners, when creating an attractive and well-functioning website for your service business. Additionally, paid website builders often include features like eCommerce tools, free domain, web hosting, SSL encryption, marketing tools, and enhanced customer support.
Paid website builders are also more reliable than the free options. Free website builders often need more stability and security than paid services and can be subject to outages and other issues. Paid website builders, on the other hand, offer more reliable uptime and better security. This is necessary for a service business website, as it can help ensure that customers can access the website when needed and that their data is secure.
Finally, paid website builders can save you time in the long run. With the right website builder, you can quickly create and launch your service business website.
How to choose the best website builder for your service business
Choosing the best website builder for your service business isn't always easy. On the market, there are different website builders, each with its own features, price structures, and degrees of customer service. Given that, you must know these crucial elements to ensure you're receiving the value for your money:
You must first think about the features of the website builder. Look for features like drag-and-drop editing, custom domain names, and SEO optimization. With the aid of these capabilities, you may develop a website faster and with a more polished appearance that will attract visitors.
Next, you'll want to consider the pricing plans the website builder offers. Look for plans that provide good value for the money and offer enough features to meet your needs. It's also important to consider the long-term costs associated with the website builder, such as hosting fees and domain name costs.
Furthermore, you'll want to consider the customer support the website builder offers. To make the most of the platform, look for website builders that include tutorials and tools and customer assistance available around the clock. This will ensure you're never stuck when trying to build your website or run into any issues.
By considering these factors, you can ensure that you choose the best website builder for your service business. This will help you create a professional website to attract new customers and keep your current ones returning.
Tips for optimizing a service business website with a website builder
A website for your service company is a fantastic method to raise awareness, draw clients, and enhance sales. Yet, it might take some time and effort to determine the best approach to optimize your website using a builder. Here are some essential pointers to remember so that your service company website stands out from the crowd.
First, check that your website is simple to use. A website builder allows you to create a user-friendly experience with clear menus and intuitive navigation. Drop-down menus, search options, and other features may make it easier for customers to access the information they want.
Ensure that the homepage of your website is appealing and sets the tone for the remainder of the site. Second, prioritize SEO tools (search engine optimization). When customers are searching for services, it's important to make sure your website is easily found. Incorporating keywords, optimizing content for search engines, and ensuring your site is mobile-friendly can all help your service business website rank highly in search engine results.
Third, include high-quality visuals. People are attracted to visuals, so include high-quality images, videos, and graphics. In addition, consider using a website builder with features like animation and interactive content, which can make your website more engaging.
Additionally, invest in customer service features. Most website builders can help you create a customer service section that lets customers easily contact you with questions and feedback. A customer service section on your website is a great way to demonstrate to customers that you value their opinions and are available to assist them with any problems they may encounter.
Use B12 to launch your service business website
Need a professional online presence for your business fast without spending tens of thousands? Try B12 today to get a website built by AI and refined by expert designers, copywriters, and SEO specialists. Make DIY changes any time you want. Launch in 30 days or less with client-engaging tools like scheduling and payments.
Attract, win, and serve more clients
Receive helpful resources directly to your inbox to help you succeed online.
Looking for a free website solution? Find out if Wix is a viable option for your business needs.
Read now
Learn more about ADA best practices to make your website readable, navigable, and inclusive for everyone.
Read now
Discover the benefits of being a freelancer bookkeeper and the steps to starting your own freelance bookkeeping business.
Read now