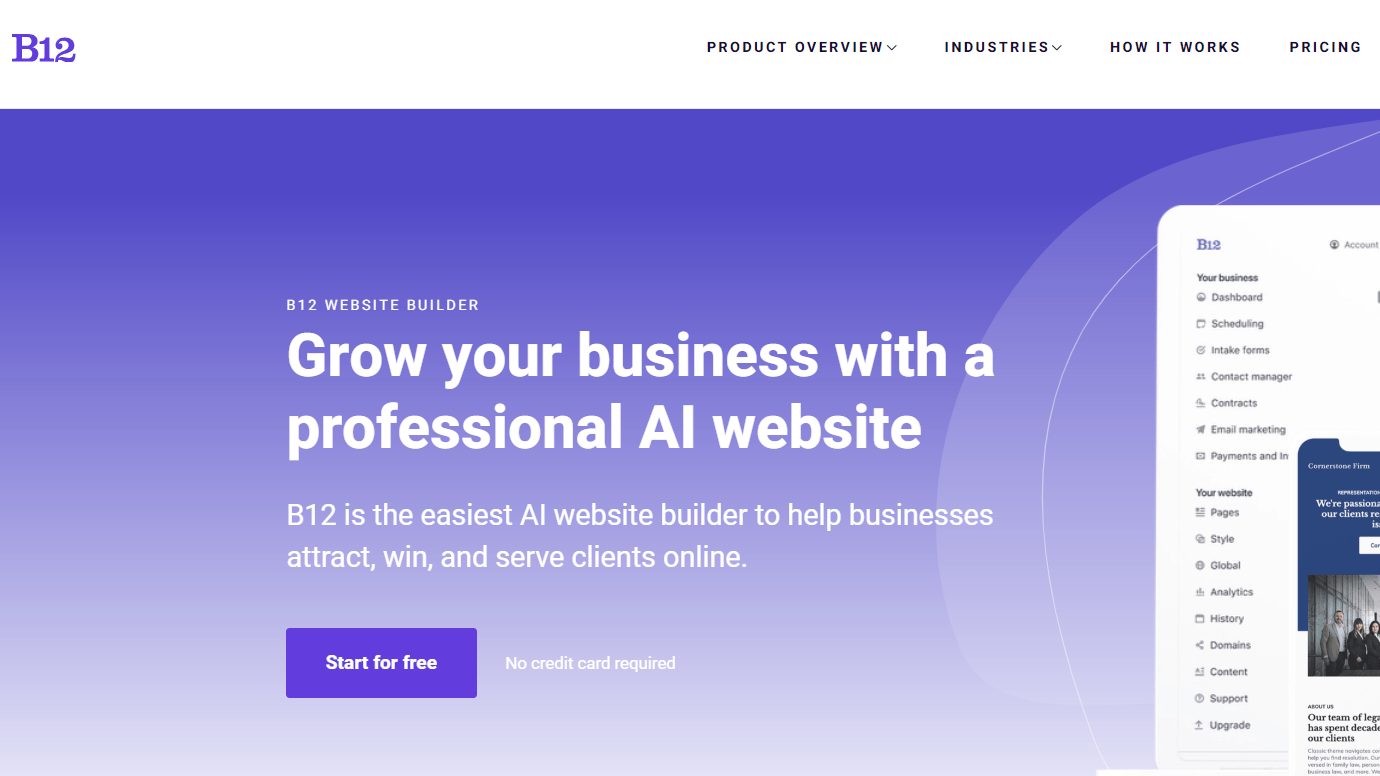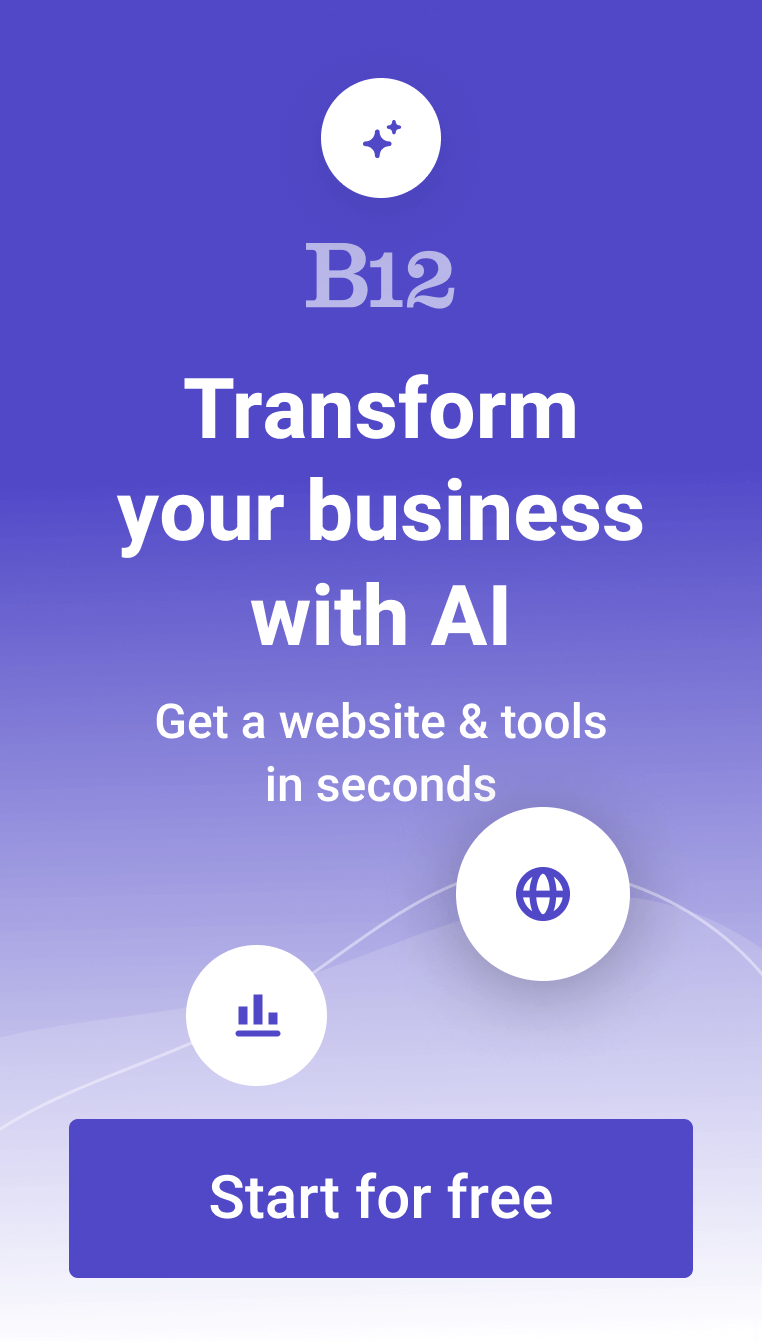 B12 is the all-in-one platform that helps businesses to attract leads, win clients, and nurture customer relationships. It provides users with the tools they need to run their business efficiently. With a suite of powerful AI tools, such as its AI website builder, AI text generation, invoicing, scheduling, and email marketing, users have everything they need to grow and thrive. 
FEATURES:
AI-powered website builder
AI Assist for quick generation of content
No-code AI
DIY editor and on-platform experts in copywriting and web design
Client engagement tools like client intake forms, email marketing, payments, eSignatures
Conversion tools
Analytics and reporting
Custom domain and secure web hosting
FAQs:
What is B12?
B12 is an all-in-one platform that offers numerous solutions that help small businesses grow. Its AI-powered website builder can generate a professional site for users in just 60 seconds. Based on the user's business description, B12 creates a site that matches their industry specifications, complete with the business's branding. Its AI Assist allows users to generate content 40x faster, which comes in handy for streamlining content creation efforts. With its No-code AI, even users without technical knowledge can automate various tasks, such as drafting contracts or outreach emails, for business efficiency. Meanwhile, Orchestra is excellent for automating repetitive tasks and workflows, helping boost team members' productivity. 
B12 automatically creates a website for users based on inputs like their business description and industry. The B12 software comes with built-in client engagement tools like scheduling, invoicing, eSignatures, and email marketing to help users attract and win clients. 
To start using B12, users need to sign up and create an account on the B12 website. Users must answer a few simple questions, and the AI will generate their professional website draft in 60 seconds. This website comes complete with a theme, images, and SEO-optimized copy, which the user can further customize to make it their own. Once the user is satisfied, they can then publish the website and use it to grow their small business. 
What are the benefits of using B12?
There are numerous benefits to using B12. Firstly, website generation is quick and painless, saving users' time and effort when it comes to making a professional site for their business. It also enables brand consistency. Users can easily create branded invoices, email templates, contracts, blogs, and others with B12. 
Another important advantage that B12 offers is that it offers the best of both worlds when it comes to DIY website building and hiring a website design agency. Aside from offering powerful site-building tools, B12 has an expert team of web designers, copywriters, and SEO specialists to help users build a solid online presence. 
The B12 website builder is geared towards small businesses in the professional services industry, including accountants, lawyers, consultants, investment firms, architects, financial advisors, mortgage brokers, commercial real estate firms, insurance brokers, and coaches.
B12 runs on a freemium basis. Users who want to try out B12's features first can consider the Starter plan. To access more premium features, users can sign up for the Basic plan ($49 per month), Professional plan ($199 per month), or Advanced plan ($399 per month). 
The best AI website builder for businesses
Draft your business-ready website in only 60 seconds, with all the features you need to better attract, win, and serve your clients online.