Business
How automating processes eliminates your time-consuming grunt work
Learn actionable steps to eliminate time-consuming grunt work, so you save money and focus on client-facing tasks.
Eliminate manual tasks like confirmation emails and reminders with a B12 online presence.
24 January, 2023
·
4 min read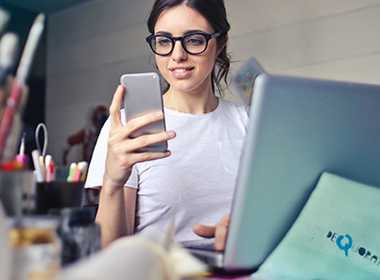 Grunt work refers to the boring, repetitive tasks required to keep your business going. Automating tedious grunt work for your business is a great way to not only save time and money, but also make sure your team can focus on more important tasks. 
By reducing the manual effort that goes into mundane processes like setting up invoices, sending generic confirmation emails, and coordinating team members' availability to meet with clients, your firm can instead dedicate time and resources to higher-value projects.
With increasingly competitive markets, firms are constantly on the lookout for ways to streamline their processes and save time, so they're able to deliver better service than their competitors. Automation is a great way to do just that. For example, according to Garner management consulting, robotic process automation saved American finance companies 25,000 hours and $878,000 in 2020.
In this article, we'll look at the benefits of automating your grunt work and which manual business tasks can easily be automated, so you're more productive in 2023 and beyond.
How much time does grunt work waste?
In roughly 60% of occupations, at least ⅓ of job tasks could be automated. What kinds of task automation is possible? The list is long, and includes:
Data backup and collection
Approvals 
Updates
Customer service
Accounting 
Reception
Customer relationship management (CRM)
Employees report more satisfaction when they are empowered to be productive and meaningfully contribute to the company's success. Eliminating grunt work is an important step to ensuring that employees feel supported and valued. 
The benefits of automating manual business processes and simple tasks 
Eliminate inefficiencies 
Over 40% of workers spend at least a quarter of their work week on manual, repetitive tasks, with email, data collection, and data entry occupying the most time. By selectively automating these tasks, businesses eliminate hours of time-inefficient work while simultaneously bolstering employee productivity.
Furthermore, automating tasks with narrow margins for error puts employees in a position to succeed and leaves a company less vulnerable to disruptive data entry-related mistakes. 
Save time
Happy employees are 12% more productive, and it's no secret wasting time doesn't feel great. Couple this with a whopping 70% of employees reporting significant time spent on repetitive work, and the benefits of automation become clear. Respecting employee time by eliminating grunt work is a recipe for a happy, productive team. 
At its core, automation means more employee hours dedicated to work that pushes profits. By freeing up time wasted on low-level administrative tasks, you are empowering employees to use work hours to develop their high-level skill sets. This focus on skill-based contributions is what will move your business forward. 
Save money
At the outset, automation may cost some time and money, but don't let that initial investment dissuade you. In a 2020 In(Sight) report, 53% of employees reported that they could save up to two hours of work per day with automation  – that's 240 hours per year per employee. 
The potential time and money saved by automation are staggering. Not only does a firm wrestle back valuable time from repetitive task execution, but they also increase productivity by having automated services perform work that would otherwise be done during valuable workday hours. 
Improve the client experience
Fewer steps, greater clarity, and more efficiency allows clients to start working with you sooner and in a way that's more tailored to their needs. When your intake, onboarding, and email responses are automated, you're free to invest where it matters most: customer relationships. 
Make your employees' work more rewarding
The purpose of 51% of automation initiatives is to enable employees to be more efficient.  With fewer manual admin tasks on their plate, they're left with more time to focus on higher-value work related to their skill set. 
Become more competitive
If you haven't yet started automating your time-consuming or mundane tasks, your business is at a disadvantage. Other companies are adopting workflow automation software and automation tools; if you aren't, you're falling behind and working less productively. 
Reduce errors
Whether it's invoicing for the wrong amount, sending an email to the wrong person, or communicating the wrong appointment time, automation is more accurate, with checks and balances to ensure your workflows are correct. No more worrying about human error.
6 tasks every company should automate
Client onboarding
Taking on new clients requires you to collect information that helps kickstart your working relationship and better serve them. One common business process where businesses can automate tasks is client onboarding. 
By using online forms and automated workflows, you can quickly collect the information that you need from new customers and get them set up with the right service offering right away. Include form fields that collect the information you need, but keep in mind if your forms have too many fields, many prospects and clients won't finish them. 
B12 next steps can be tailored to support your unique workflow to funnel new clients in the right direction. Customizable options mean that every client is able to land in the right place with a few simple clicks. 
Transactional emails
Welcome emails when someone signs up for your email newsletter
Confirmation emails when a form is submitted
Appointment reminder
Payment confirmations
Email automation has the capacity for nuanced, targeted messaging depending on the client and their needs. B12 email automation notifies businesses when an email has been generated, and ensures that every customer interaction is responded to promptly with the appropriate content and next steps.  
Invoicing
Another task that many businesses struggle with is invoicing and billing. By utilizing online payment platforms like Stripe and PayPal, you can easily collect payments from clients without having to deal with the hassle of managing paper invoices.
Invoice reminders. Easily create automated email reminders for clients to avoid having to compose them from scratch or manually send them.
With B12, invoices automatically match your branding and have all of the important fields, which you can customize.
Team scheduling and coordination
Synced calendars, online scheduling software, and a contact manager eliminate discussion and questions around which team member will attend a new client consultation or who was the last point of contact for a lead. 
With a centralized platform like B12, more of your employees can work from a shared dashboard that provides visibility into client interactions and each team member's availability. Centralizing more of your team's workflows can help you keep track of documents, improve project management, and more quickly onboard new hires.
Tax preparation
Keeping digital records of invoices and payments, then being able to export and easily send to your accountant saves time. B12 websites allow businesses to create, manage, and export branded invoices to clients, and all invoices are saved on their website dashboard for easy access. Additionally, with automatic syncing to QuickBooks, your firm is always up-to-date and ready for tax season. 
Contracts
Online contracts and eSignatures streamline the process of closing deals and renewing contracts. B12 websites generate contracts based on a few simple inputs from customers that can be completed right on the business website. Send, E-sign, and submit unlimited contracts straight from your B12 dashboard. 
Improve efficiency and optimize business workflows using B12
Taking steps toward adding automation to your firm can't wait. Every day you put off automating grunt work gives other small businesses in your industry and area time to get ahead.
Automating key business tasks is about freeing up your team's time and resources to focus on what really matters – scaling the business and providing value for clients. So if you're looking to bring more parts of your company online and automate manual tasks, consider using a powerful artificial intelligence-enhanced platform like B12. 
B12 makes it simple to launch a professional online presence that centralizes more areas of your business, including payments and invoicing, scheduling, client intake, contracts, sending emails, and more. It allows you to set automated tasks and workflows and eliminate manual work like manually sending confirmation emails and intake forms.
Try it for free, then work with expert designers, copywriters, and SEO specialists to launch your new online presence in 30 days or less. Add on key features like online payments and scheduling to improve your time management and offer the experience clients expect.
Eliminate manual tasks like confirmation emails and reminders with a B12 online presence.
Start by seeing a free draft of your new website, then explore time-saving, client-facing tools.
Looking for a free website solution? Find out if Wix is a viable option for your business needs.
Read now
Learn more about ADA best practices to make your website readable, navigable, and inclusive for everyone.
Read now
Discover the benefits of being a freelancer bookkeeper and the steps to starting your own freelance bookkeeping business.
Read now