Content creation
12 exciting content ideas for your business blog in 2023
If you're thinking about creating a blog, now is the best time to start! To help you get started, we've put together this list of twelve content ideas.
6 January, 2023
·
7 min read
If you're thinking about creating a blog, now is the best time to start! Despite how long they've been around, blogs are one of the best ways to drive traffic to your website and introduce customers to your business. To help you get started on your blog, we've put together twelve content ideas.
What sets you apart from the rest of your industry?
Before you begin brainstorming content ideas for your 2023 blog, take a moment to decide what the goals of your blog are. Is this going to increase sales, improve customer retention, establish your business as a leader, or all of the above?
A great way to figure out and execute these goals is to come up with three things that set your business apart. Why does your business exist? What does your business value? What can someone get from your company that they can't get anywhere else? Once you have these three things, incorporate them into your blog, and use your articles as a way to promote these unique values.
12 content ideas for your blog
1. Answer frequently asked questions
One of the easiest ways to write blogs for your audience is to answer a handful of frequently asked questions. You can pull these questions from emails, comments on other blog posts, and interactions with your customers on social media.
Creating an FAQ blog has several benefits. For one, you know that it's content that your readers want to see. You're directly addressing their questions and concerns, which makes bringing traffic to your blog easy.
Second, this type of content is super simple to create since you already know the answers to your customers' questions. Rather than having to rack your brain for whatever creativity it has left, you can focus on being clear, concise, and helpful - something that your customers will be grateful for.
2. Cover the news in your field
Another great source of inspiration for your blog can come from the news. No matter what field you work in, there's almost always news, updates, and changes happening within it.
Covering the news in your field will not only force you to stay current with the latest in your industry, but it will also provide your audience with the most relevant information possible. It'll also establish you as an active member of your industry rather than a passive one.
To help you keep up with the news in your field, find news curation sites, and set up RSS feeds for the ones that are the most reliable. Creating an RSS system will allow you to stay up to date without taking too much time away from the rest of your work.
3. Interview someone in your field
Another fun content idea that writes itself is interviewing someone important in your field. This can be a fun and exciting opportunity for you and your customer base, so be on the lookout for this kind of content!
The only word of warning with creating an interview piece is to be prepared. If the person you are interviewing is someone who is regularly interviewed, try to avoid asking questions that this person has already been asked a hundred times. This will create a more engaging and unique interview.
Hosting an interview is also great because you can record and release it through different mediums. You can turn it into a blog, record the audio for a podcast, or upload the interview to your YouTube channel/social media.
4. Debunk a popular myth
For an idea that requires more creativity, you can take on the role of a myth buster. This type of content takes a common myth or misconception about your field and breaks it down.
You can use this blog as a fun place to explore a bit of the history behind the myth and why it's so heavily perpetuated. This serves as a fun bit of trivia and keeps your audience from feeling like they've been duped.
From there, you can explain why the myth is false and present the real truth of the matter. By the end of this piece of content, you and your customers will have learned a little more about your industry, establishing you as a thought leader in your field.
5. Create localized content
If you have customers across different regions, localized content marketing could be the next step for your business. Localized content is content that addresses people of a particular area explicitly. For example, a law firm might give different advice to somebody in Texas as they would to someone in California.
This kind of content works best when discussing laws, as laws vary drastically from one place to the next. However, you can also consider the different services offered in different areas, the unique challenges of people in a locale, and more.
Just make sure that you do the proper research when creating localized content. The last thing you want to do is provide your customers with incorrect information.
6. Share customer stories
Have you ever had customer interactions or successes that filled you with pride and excitement? It's one of the most rewarding aspects of running your own business. To keep the momentum of these positive interactions going, you can share these stories with the rest of your customers through your blog.
Sharing customer stories in your blog is a great way to bring your business down to earth. It turns the attention away from your business and onto the lives that your business is impacting. This shows people the human aspect of your company and highlights your business's values.
The thing to keep in mind with customer stories is always to get permission first. You never want to leave a customer feeling exploited or like their privacy has been violated.
7. Respond to readers comments
One of the best ways to keep readers engaged with your content is to interact with them. Communicating with your readers shows them that you're paying attention and that there is a person behind your content.
Maintaining consistent interactions with your readers can also give you ideas for new content pieces. Creating blogs and articles that respond to your readers and their comments will show them that you're listening.
Not only does this make your readers feel valued, but it also has the benefit of giving you content marketing ideas that you know your audience is interested in. You can pull blog ideas from customer emails, social media comments, and blog replies.
8. Start a series
Speaking of reader engagement, let's talk about creating a series. A series is just a recurring blog format that takes place once every week or month. Having a series in place will give your customers something consistent to look forward to.
As anyone in business knows, becoming a consistent part of someone's life is vital. By becoming a part of someone's routine, your series is building your brand up in the eyes of your customers. This familiarity is extremely valuable.
Creating a series for your blog has the added benefit of lessening the creative load on your blog. You already have an idea of the kind of content you're going to be making each week, can plan it out in advance, and can follow a quick format when creating each blog post.
9. Create a "How-To" guide
A timeless blog format is a How-To guide. If you've spent more than five minutes on the internet, you've probably read at least three of these guides. Despite how common they are, these types of articles have remained extremely popular.
That's because they promise to present useful information in an easy to understand way. People go into How-To guides expecting to learn something new and have their problem resolved quickly.
To get the most out of a How-To guide, provide as much information as you can in as short of an article as possible. Include pictures where relevant, use your industry expertise to communicate clearly, and create a guide that people can come back to any time they need help with the problem it addresses.
10. Compare and contrast
Another popular blog format is to compare and contrast. This involves taking two different things and seeing how they stack up against one another. Though you can apply this by comparing your business to another, this isn't necessarily the best use case.
Instead, think of comparisons that your customers would like to see. For example, if you offer a wellness service, you could compare different wellness care practices. Analyzing these kinds of things against each other will help customers make a decision that is right for them.
Though it can be tempting to use these kinds of articles as a way to paint your business in a good light and others in a bad light, customers can usually pick up on these strategies easily. Instead, present both alternatives in equally unbiased views and suggest each one to a person's specific needs (e.g., Option A would work better for a person with X needs, while Option B would work best for someone with Y needs).
11. Breakdown the history of your field
If you work in a sector that maybe isn't the clearest to most people (typically fields that are new or complex), your blog can serve as a gateway for building up their knowledge on the industry. This will help them feel more comfortable with the services you have to offer.
A great way to accomplish this is by presenting a breakdown of the history of your field. This breakdown doesn't have to be too in-depth, but it should tell people how your industry came to be, what it's about, and what value it provides to people.
Content like this is a great place to explore your own company's personal history. Alternatively, you could write an article that focuses solely on how your business came to be and what it has to offer.
12. The do's and don'ts of your industry
Building off of simple formats, a final blog structure that you can follow is a do's and don'ts of your industry. This is any article advising people on things they should or shouldn't do when doing business in your sector. It's a place to let your experience in the industry shine.
Now, you could make one article that covers several of the major do's and don'ts in your field. However, you can also get much more creative with this style of a blog. Rather than looking at your field as a whole, you can look at specific aspects of your industry and offer advice to your readers.
For example, instead of giving broad warnings about the financial industry, you could create a do's and don't of choosing a bank, using a credit card, or paying off a loan. This will provide more specific information to your customers and make your articles more searchable.
Are you looking for more ways to improve your website?
Creating a blog is a great first step towards making your website even more successful. If you want more tips, tricks, and advice on content creation and improving your site, check out the rest of our blog right here at B12.
Have expert copywriters create blog posts for you
Launch a B12 website that includes monthly SEO content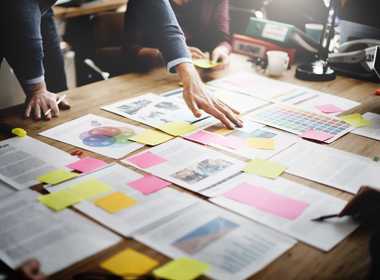 Looking for alternatives to PayPal for accepting online payments? Check out our comprehensive guide on the best PayPal alternatives.
Read now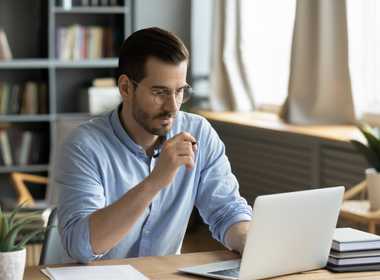 Learn how to build a professional website for your independent consulting business with our step-by-step guide. From choosing a domain to optimizing for SEO, we've got you covered!
Read now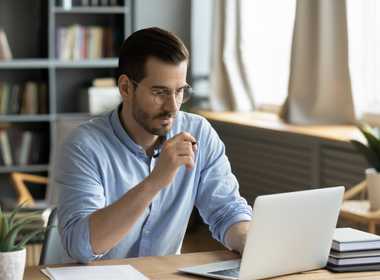 Discover the best DIY website builder for your small business needs with this comprehensive guide, including pros and cons of each platform. Make an informed decision and create a professional website...
Read now